Apple Focuses on Performance, AR for iPhone Operating System
Apple Upgrades Augmented-Reality Features
Apple Inc. is giving the software that runs iPhones and iPads a needed overhaul.
At its annual conference for developers on Monday, executive Craig Federighi announced iOS 12 with improvements to the operating system's performance and reliability, in addition to enhancements to augmented-reality applications and new tools to monitor how often people use their devices.
The update includes support for multi-player AR games, additional features for the Siri digital assistant, and new ways to search for photos, block notifications and conduct FaceTime video conference calls.
For years, some consumers have criticized the iOS software for bugs. Last year's major release, iOS 11, had a bevy of problems related to phone calls, incorrect characters appearing in Apple's iMessage service, apps crashing and appearing on the Home screen in the wrong place.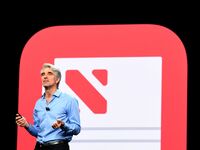 Apple said on Monday that devices will launch up to twice as fast, while adding that it's focusing primarily on speeding up older gadgets. There are underlying changes to the camera app to also make taking pictures faster.
The Siri upgrade will integrate the voice-based technology with more outside apps. Apple is also launching a new Shortcuts app that lets users create their own Siri commands. The company said Siri gets 10 billion requests per week. Apple, however, didn't discuss improvements to Siri's underlying technology, which has been criticized by some users.
["Source-bloomberg"]