Crooner, inspiration, father I never had: Gregory Porter on his hero Nat King Cole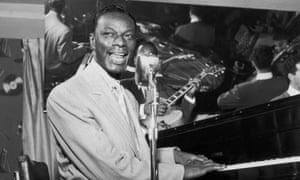 When I was five or six, I wrote a love song: "Once upon a time I had a dreamboat / Once upon a time I had a love / Once upon a time I had a dreamboat / And upon that boat I found my love." I sang it in a crooner style into a tape recorder and played it to my mother. "Boy, you sound like Nat King Cole," she said. I remember thinking: what a strange name. I must have been old enough to spell out at least N-A-T.
I went to her record collection and, among the Mahalia Jackson and Ella discs, there were five or six by Nat. I put one on, looked at this very sharply dressed, elegant man on the album covers, and out of the speakers came the warm, nurturing sound of his extraordinary voice.
My mother was a minister in Bakersfield, California, and raised eight kids single-handed. My father wasn't in my life. Nat's songs filled a void. I was drawn to Nature Boy, its sweet, sophisticated sorrow. When I heard the line "There was a boy", I thought: hey, that's me! His words of wisdom – "Pick yourself up, dust yourself off, start all over again", "Smile, though your heart is aching" – were like fatherly advice. They seemed to speak directly to me.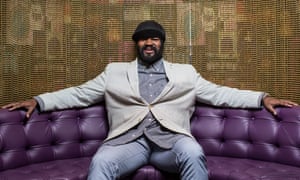 I remember my first day at college. I was the first to arrive in the dorm. I put on a Nat King Cole record. Everyone else was listening to hip-hop and sexy R&B. My room-mates said: "Woooh, what's this, man?" And I introduced myself and said: "Oh, yes, I listen to Nat King Cole." They thought it was the coolest thing.
Nathaniel "King" Cole was born in Alabama in 1919. His father was a Baptist minister, his mother the church organist. I liked that connection we had: both of us preacher's kids, growing up around church choirs. He didn't write many of his own songs – I figure he didn't have much time, being so busy travelling, performing and recording – but one of his best known is Straighten Up and Fly Right, inspired by a sermon of his father's based on an African American folktale. Many of my songs, too, take inspiration from what my mother used to preach about.
Nat came late to singing. He was a brilliant piano player – taught as a young boy by his mother – and it was only later in his career that he started singing. In 1956, he was the first African American entertainer to have his own TV show. It didn't last long: sponsors couldn't be found because viewers in the southern states didn't want to see a black man on TV. When I think about the racism he faced, I find it amazing to see how his sophistication, intelligence and warmth always shone through.
Even though Nat was a hugely successful artist with audiences across the country, parts of America seemed closed to him. In the late 1940s, he bought a house in Hancock Park, an almost exclusively white area of Los Angeles. The Ku Klux Klan burned a cross on his front lawn, and the neighbours got together to try to have him kicked out, saying they did not want "undesirables" moving in. Nat told them: "Neither do I. And if I see anybody undesirable coming in here, I'll be the first to complain." Sometimes he wasn't even allowed to stay at the very hotels where he had been booked to perform.
He might not have got up and made fiery speeches about civil rights, but I think the beauty and grace of his performances were his quiet way of showing what the African American community had to offer. His music was the most eloquent advocate for the respect and dignity he was owed.
Nat had a career in Hollywood too. Even as his greatest fan, I can't claim he was the No 1 actor of the day. But I love to watch him in St Louis Blues or Cat Ballou. I love the fact he had a go and it gives us another personal connection: acting was an important part of my own career, my own route into music.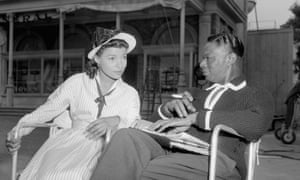 As an actor in musical theatre, I would always do my soundchecks and warmups with Nat's music. One day a director asked: "Man, what is this thing with Nat?" I told him and, to cut a long story short, ended up writing my first ever piece of musical theatre: Nat "King" Cole & Me. Telling my story and his, it's a 50:50 mix of his own music and my tribute songs to him. In 2004, the show played for eight weeks in Colorado. Before that, I used to write poems and songs but would put them away in a drawer. Now I felt able to call myself a songwriter.
It was Nat's masterful way with the microphone that gave him his intimate crooning style. I love the way he slides up to notes, but there's also the amazing clarity of his diction. It's sad to think his heavy smoking habit ended his life at the age of 45, the same age I am today.
Sometimes I try to write songs for him. When Love Was King, from my 2013 album Liquid Spirit, had Nat in mind. Just like Nature Boy, it begins like a fairytale: "Once there was a kingdom, far, far away." I can imagine him singing it. The closing lines of Nature Boy – "The greatest thing you'll ever learn / Is just to love and be loved in return" – have always been much more to me than simple lyrics. When I play it, I hear my childhood household, I hear my mother.
That's why recording my new album was such a deeply moving experience. Like my show, it's called Nat "King" Cole & Me, and contains a mixture of his songs and mine. When my mother needed a special weapon at the end of a sermon she would bring me up to the pulpit to sing. One day, she said: "When the words come through you, really understand them and think about them, before they come out of your mouth."
That's been the most important advice of my career. I still think of music as something that's coming through me, touched by emotion. And that's what I hear in the music of Nat King Cole. In 2017, we need its optimism and beauty more than ever.
Source:-.theguardian