The Best Wireless Microphones for Cameras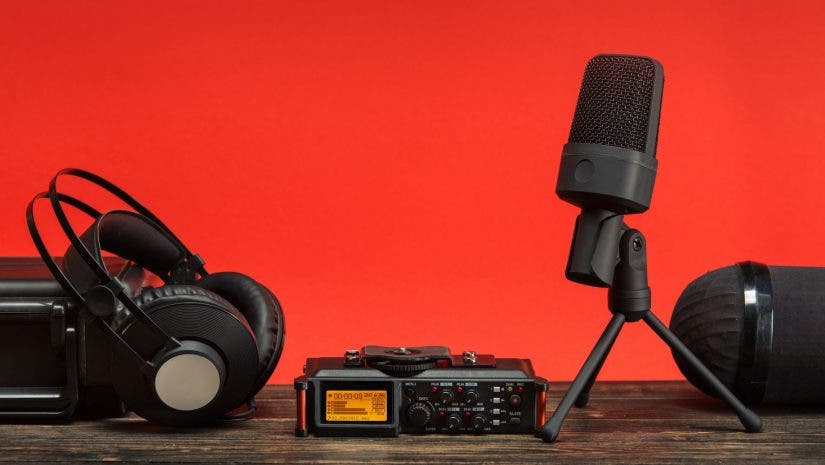 Every good DP or cinematographer knows how vital sound is to film and video production. From whispering dialogue and creaking doors to the frenzied voices in epic crowd scenes, sound adds so many dimensions to moving images.
Fortunately, we've gone a long way from that classic scene in Singing in the Rain. No more clunky vitaphones, low-fi mics, and heavy cables cluttering the set. And with camcorders, and even DSLR and mirrorless cameras becoming lighter and easier to set up, it's comforting to see so many innovations coming in from the sound department as well. Wireless microphone systems are just some of them.
Like its wired counterparts, a good wireless mic is able to pick up all sorts of sound at exceptional quality, but with the added benefit of portability and ease of use. Compatibility is also not an issue with mics specially designed to be configured to cameras via shock mounts, USB cables, and additional adapters. But whatever reason you may have for including wireless camera mics to your pro audio gear, it's best that you choose the right equipment for your project.
As with buying a wired mic, you should also consider factors like microphone type, sound quality, polar pattern, directional response, sensitivity, signal to noise ratio, frequency range, and pressure variation. For instance, if you're shooting a direct interview for a documentary, a wireless on-camera shotgun mic should give you the best sound pickup as its directional pattern lets you record voices clearly and keep peripheral and ambient sounds to a minimum.
To help you make an informed choice, here's our rundown of the best mics for film and video work:
Wireless On-Camera Video Microphones
Video mics are among the most popular types of shotgun mics mounted on cameras and camcorders. While they are made primarily for recording scratch-track audio, there are some models that can produce high-end sound from the get-go, like the Rode Microphones VideoMic Go Lightweight On-Camera Microphone.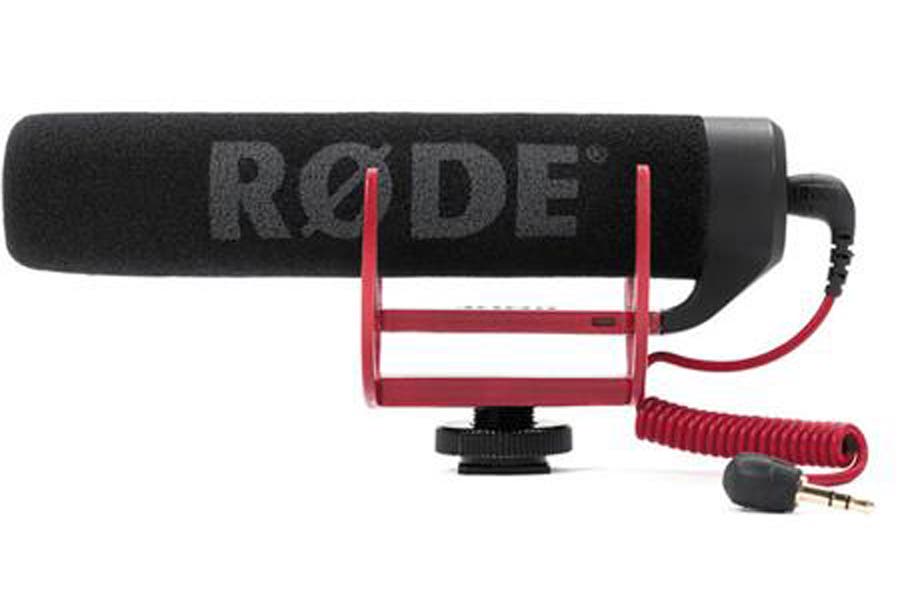 Rode Microphones VideoMic Go Lightweight On-Camera Microphone (

$99

)
Buy Now
If you're looking for crystal-clear directional audio while you shoot, this compact, wireless microphone is for you. It flaunts an integrated Rycote Lyre shock mount, which lets you isolate your subject from distracting background noise and vibrations. Plus, you can operate the mic by simply plugging it into your DSLR camera or camcorder's external microphone output without any batteries needed.
Product highlights:
Rycote Lyre Suspension System
Picks up the front and sides and rejects 150° to the rear
Line Gradient; supercardioid; 100Hz – 16kHz frequency range; -35.0dB re 1 Volt/Pascal sensitivity; 120dB SPL
Lightweight at only 2.6 oz
Integrated shoe mount with ⅜" thread
Foam windjammer included
3.5mm mini-jack output and coiled output cable
Requires 2.5V camera plug-in power
Strong, rugged construction
Other recommended on-camera wireless mic:
Sennheiser MKH-416 Short Interference Tube Microphone with Rycote Windshield Kit (

$1199.99

)
Wireless Lavalier Microphones
Are you shooting interviews or heavy dialogue scenes with the camera a bit farther away? A wireless lavalier microphone system should do wonders for your final output. Lav mics offer a hands-free, all-in-one voice recording system with extended capabilities, like wireless transmission for broadcast applications and multi-cam setups.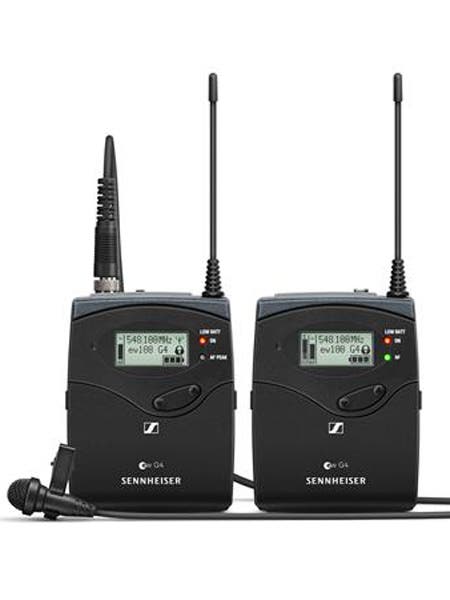 Sennheiser ew 112P G4 Camera Lavalier Set (

$599

)
Buy Now
The Sennheiser ew 112P G4 Camera Lavalier Set from Adorama has everything you need to start shooting video wirelessly within seconds. This easy-setup kit includes a rugged bodypack transmitter, camera-mount receiver, and broadcast-grade, ME 2-II omnidirectional lavalier microphone. Mobile journalists and filmmakers alike will benefit from this wireless system's excellent sound quality and simple but dependable configuration.
Product highlights:
12 compatible frequencies of up to 100m range
EW 100-p output power goes up to 30 mW
Series II 2.4GHz digital transmission w/ 128-bit encryption
1680 autoscan frequencies
Up to 8 hours of runtime
Rugged construction
Powerful and reliable wireless transmission
Easy-to-use and fast setup time
Superb, broadcast-quality sound
Other recommended wireless lavalier microphones:
Sennheiser AVX-MKE2 Camera Mountable Lavalier Pro Wireless Set (

$899

)
Rode RODELink Digital Wireless System (

$479

)
Wireless Mics for Field & Broadcast Applications
When you're on the field or on the move in your OB van, you need to produce spotless audio without being encumbered by wires. Fortunately, there's been quite a handful of microphone innovations tailored to meet the demands of outside broadcasting with minimal gear in tow.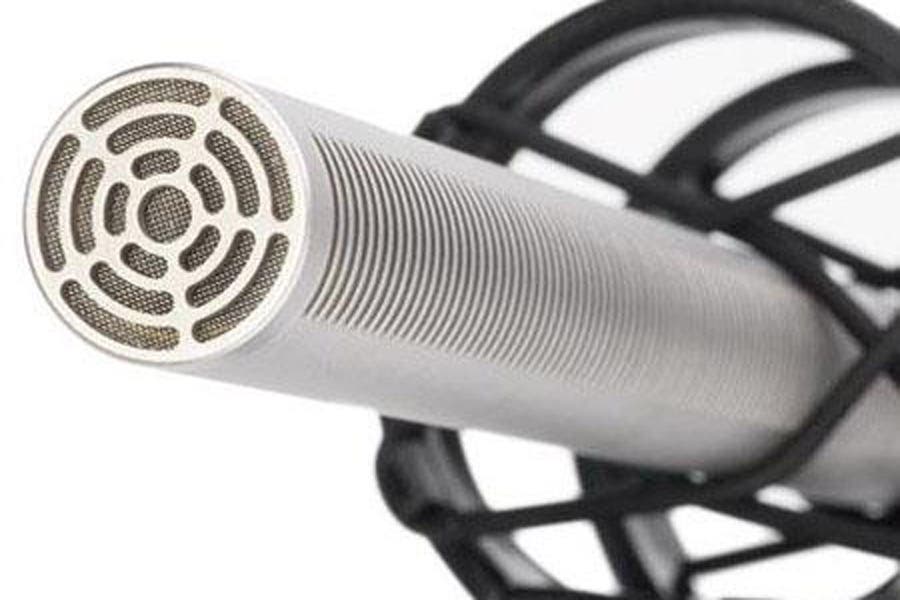 Rode Microphones NTG-3 RF-Bias Shotgun Microphone (

$699

)
Buy Now
The Rode Microphones NTG-3 RF-Bias Shotgun Microphone is the go-to wireless microphone for camera operators doing journalistic work. It's prized for its robust build that can withstand moisture and extreme weather conditions. More importantly, it can capture great directional audio and reject distracting environmental noise, making it perfect for hectic interviews and crowded scenarios.
Product highlights:
50 percent less self-noise than most shotgun mics
True condenser (externally RF biased) with low handling noise
Aluminum storage cylinder for additional protection when traveling
High level of immunity to radio frequency broadcast
Superior broadcast sound quality
Other recommended wireless mics for broadcast applications:
Sennheiser AVX-ME 2 Camera Mountable Lavalier Wireless Set (

$699.95

)
Sennheiser ew 112P G4 Camera Lavalier Set (

$599

)
Portable Wireless Microphones
Journalists who are always on the move need to have as little gear as possible. Along with a high-resolution mirrorless or DSLR camera, they also need a discreet, lightweight, and user-friendly audio recording kit. But when it comes to assembling a compact kit, there shouldn't be any compromise on sound quality and recording flexibility. Luckily, there are a few portable wireless mics that fit the bill.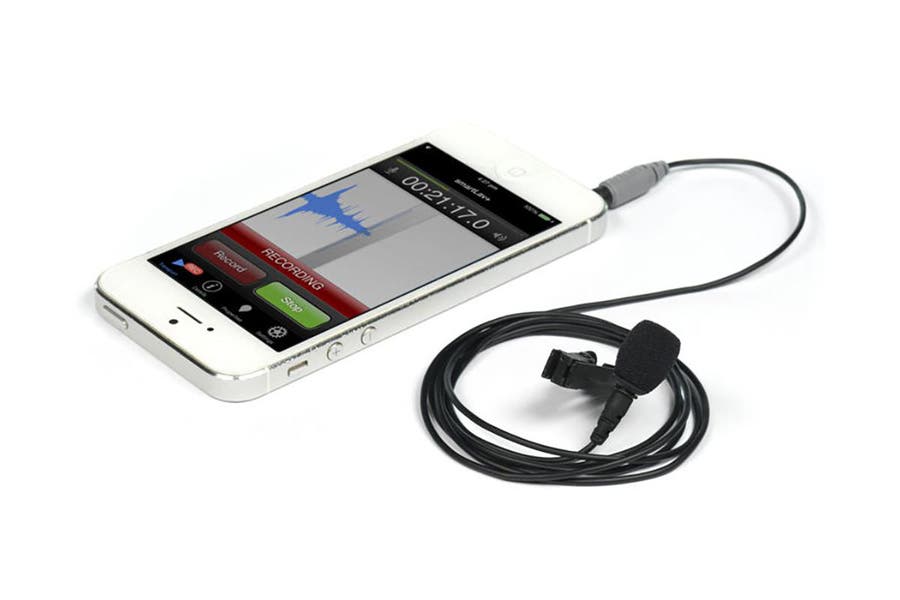 Rode Microphones SmartLav+ Lavalier Microphone (

$79

)
Buy Now
Nothing speaks "wireless" and "portable" better than the Rode Microphones SmartLav+ Lavalier Microphone for smartphones. The smartLav+ is perfect for any application requiring broadcast-grade audio, from film and TV productions to broadcast and field monitoring scenarios. You simply mount the lavalier lapel microphone on the talent or interviewee and start recording using the RODE Rec app for iOS or any other audio app of your choice.
Product highlights:
Seamlessly connects to smartphones or tablet headset jacks
Pro-quality omni-directional condenser capsule
Foam pop is included to minimize wind noise and vocal plosives
Sturdy mounting clip with built-in cable management
Kevlar reinforced cable for extra wear resistance
Equalisation presets for various recording scenarios & professional editing functions via RODE Rec
Other recommended portable wireless microphone sets:
Sennheiser ew 500-G4-945 Wireless Vocal Set with Handheld Transmitter (

$949

)
Sennheiser ew 100 ENG G4 Wireless Combo Set (

$799

)
Wireless Mics for VR Video Production
Pro audio recording is one thing, but spatial audio recording is a whole new ballgame. When you're putting together a 180° or 360° VR video, you'd want your background music, special effects, and voice-overs to be as immersive as possible. To achieve this, you'll need to master recording "ambisonics audio," a type of full-sphere surround sound format using multiple microphones to record four or more audio channels. With the perfect wireless microphone, hi-fi headphones, and recorder/mixer set, you can craft an audio experience that gets your audience closer to the action.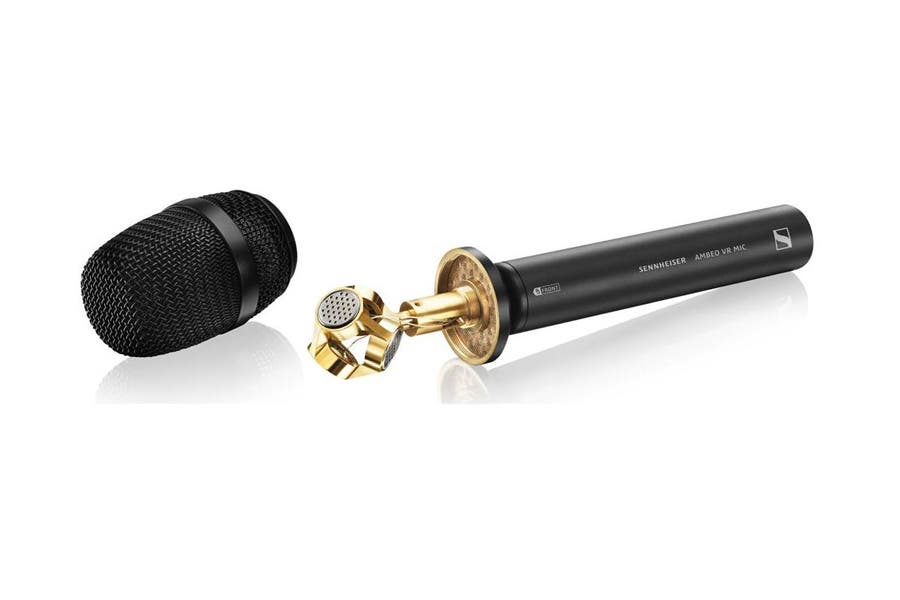 Sennheiser AMBEO 3D Virtual Reality VR Microphone (

$1295

)
Buy Now
The Sennheiser AMBEO 3D Virtual Reality VR Microphone is a wireless microphone made to record immersive audio for VR video. This ambisonic mic lets you capture sound that surrounds you from a single point to match your spherical 360 content and is designed with pro VR video producers in mind.
Product highlights:
Captures Immersive "Spherical" Audio
Includes A-B encoder software to enhance post-production workflow
Externally polarized condenser microphone
4x matched KE 14 cardioid capsules in Ambisonics A-format arrangement
20 Hz to 20 kHz frequency response; 31 mV/Pa (-30 dBV) sensitivity
4x phantom powering
Rugged & Portable for Various Locations
Includes cable, mount, and windshield
Other recommended gear for VR video sound production:
Mackie ProFX8v2 8-Channel FX Mixer (

$219.99

)
Sennheiser HD 600 Audiophile Dynamic Hi-Fi or Professional Stereo Headphone (

$299

)
Picking a microphone to go with your video camera or camcorder is a futile exercise if you don't know exactly what you need. Keep in mind that there's no such thing as a one-mic scene, so it's best to not limit your options to wireless camera mics alone. While their lightweight quality and no-frills setup can be rewarding, they are nothing but toys if they don't meet the audio needs of your production.
["source=adorama"]