Tomah gets new computer business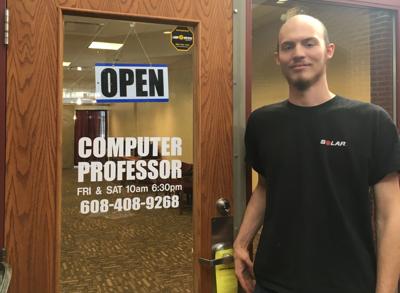 The Computer Professor is open for business.
Matt Myzia opened his computer shop, Computer Professor, Feb. 1.
Myzia's interest in computers began when his father bought him his first computer.
"I've been mucking with computers since third grade," he said. "My dad bought my first one when I was in kindergarten. My mom yelled at him … he never heard the end of it. A year later I took the whole thing apart. Then in third grade I put it all back together and it started working again. I was a little kid at the time; I didn't know what I was doing, so my mom said, 'You're lucky you got it back working.'"
Working on computers became a hobby. As a student at Adams-Friendship High School, where he graduated in 2014, he started thinking about a future career in working with computers, Myzia said.
His interest in computers was so great that Myzia asked for a class to be made so he could broaden his understanding and knowledge.
One was created for him.
"I asked, 'Look, I'm highly intelligent in this, all these other classes don't really interest me, these electives. Could you get me a class to do this?'" he said. "I asked them at the beginning of the school year, and it took them until my junior year, during summer vacation to be able to get a class made for me. I worked alongside Kevin Pfaff, the director of technology."
For a time after high school Myzia studied computer science in college but left when his father died.
Afterward he immediately jumped into the workforce, taking a job at Walmart, where he remains, still working part-time, even after he opened Computer Professor.
"It gives me something to do," Myzia said. "I'm not the type that likes sitting around and doing nothing, I can't stand that."
Even before he opened his shop, Myzia said he was still working on computers on the side as a hobby. He got well known and decided he wanted to open his own place. He contacted Marty Meyer, one of the owners of CBD American Shaman in Tomah. Myzia knows Meyer through Meyer's girlfriend, Sara Pfaff, the daughter of Kevin Pfaff.
Myzia was offered the empty space at the back of CBD American Shaman and didn't hesitate to accept.
Myzia said he's excited to have his own business space. It's something he has wanted to do for a long time.
"I absolutely love working on computers, it's calming, it's relaxing," he said. "It's more or less what I've been wanting to do since grammar school, but it takes time to get up there."
Some of the services Computer Professor offers are sales of new and used computers; repairs to laptops, tablets, phones and desktops; he also does some house calls for individuals and businesses for anything computer-related, including networking.
While his shop is only open Fridays and Saturdays from 10 a.m. to 6:30 p.m., he is available outside of business hours, Myzia said.
"It could be on one of the days that I'm not even in the store, one of the days outside of my business hours if they need it, they could call me up even in the middle of the night," he said. "They're welcome outside of my business hours if they need something, otherwise they can just call and set up an appointment."
In addition to sales and repairs, Myzia can custom build computers and sells new and used video games.
Myzia said one of the things he's proud to offer is longer warranties on computers than what can be found at large retail stores.
The warranty on used computers is 90 days, and on new computers it's a year and a half.
"I wanted to go one step above and beyond with the warranty on (new computers)," he said. "Instead of doubling it I went a bit above."
Also, any computer bought at his shop, as long as the receipt is kept, Myzia gives a 20 percent discount on all future services, even if it's outside of warranty.
"I take pride in machines that I test and everything, I want them to work," he said. "But if for some reason something happens outside of warranty, which happens to new computers, you can't stop that, I'll take care of you."
In his first year of business, Myzia hopes to gain the trust of the community.
"I understand it's a new store, and there are people out there that worry about their information. I'm hoping to gain their trust," he said. "I honestly would like to get people to know that I'm here … and see the services that I provide."
["source=lacrossetribune"]